2014.06.29
Bring a Friend Weekend!
2014.06.29
Sunday

This weekend, I dolled myself up, and met up with wonderful people!
My bestfriend KC and I agreed to meet up, and introduce our friends who we think are totally on the same wavelength as us!
Jeeka is KC's friend whom she met through a mutual friend, she wanted me to meet her since she thought that we would get a long, and we did! Jeeka is fun, and has a good sense of humor!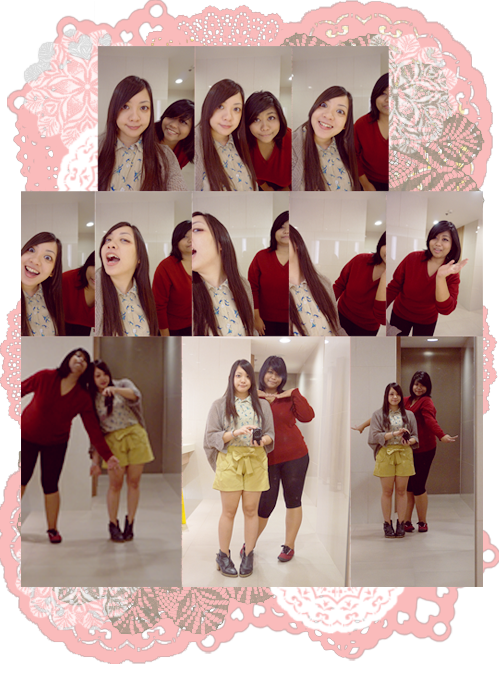 Ven, and I at the comfort room, camwhoring. Yes.

I told KC that she should meet Ven because she's moving away, and it's been years since I told her they should meet, and finally we agreed to all get together this weekend at the mall.
Ven and I got there early, around 11am, we had coffee, and talked about random things, that are not commonly talked about by others hahaha! (ex. scalping) Hello? would you bring that topic up? We would hahaha

Jeek, Me, Ven, and KC.

Kc, and Jeeka arrived around 12:30nn and we hit it off right away! We talked endlessly, never running out of things to talk about, and the seldom silence just to rest ourselves from, well, TALKING! It was so much fun! We ate at Pepper Lunch, I never imagined that ordering food would've been so much fun hahaha! We were laughing, and joking amongst ourselves about the menu.
We went to Poetry & Prose cafe after for dessert.
This cafe was divine!
I had Beignet with chocolate dip! YUM!
I ordered a chocolate crepe, which I forgot to take a photo of before digging into it!
Their tea was delicious too! I'm used to having tea with honey, and milk, but theirs didn't need any of those!
We decided to head home around 5pm since it was getting dark, and KC slept at 4am that day! We all agreed to meet up again for a sleep over the week after the next, I'm so excited about it!
I'm so thankful to have found friends like them!
Ven, and I met up with her sister at Project Pie, and had dinner.
We went to a cafe called Green Bean afterwards to meet up with Ven's friend I gave them some privacy by plugging in my earphones and tuning out while reading "Just Kids" by Patti Smith, i'm totally in-love with this book right now!
This weekend was wonderful!